Find the perfect Electric kick scooter for your long commutes to work or rentals and deliveries.
Feb 17, 2023 by joyor-eu
There are dozens of electric kick scooter on the market, but only a few are worth taking home for a ride. the
For entry-level and commuter scooters, our main considerations are portability or how easy it is to fold up to ride a bus or other type of public transportation, or how light it is to push the scooter up long stairs, as well as range and top speed .
For performance-based high-end rides, we think about range, speed and braking mechanisms, but we also think about suspension. If you're paying upwards of $1,000 for an electric scooter, it should be comfortable and capable of climbing curbs, hills, and rough terrain.

Where you plan to ride your scooter should also help determine your purchase. If you live in a flat area, a scooter with a 300W to 350W motor should give you all the power you need.

Commuter scooters don't need to be the fastest things around, but it helps if they can consistently go at least 15 mph so you don't hold anyone up in the bike lane. We also looked at braking mechanisms, including hydraulic disc brakes (best for quick and safe stops at top speeds) and mechanical disc brakes (considered second best for reliability). Extra features like headlights, mirrors, and an available speedometer also factored into our commuter picks.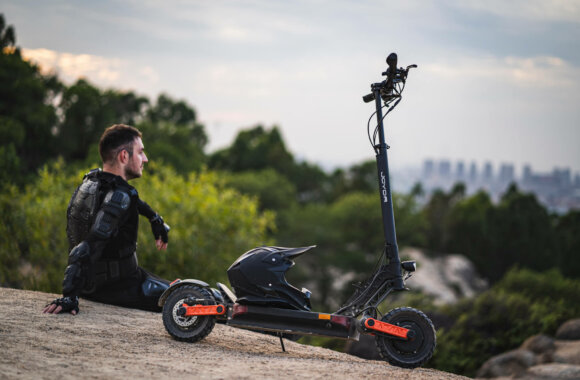 According to the above conditions, there is a Y series of Joyor electric portable scooters with front disc brakes, rear disc brakes and double front suspension. Both the Y5S and Y10 models are powered by 500W electric motors and can reach speeds of up to 30km/h (the maximum speed recommended by most European regulations). The Joyor Electric&Portable Scooter Y series has front and rear lights, and front and rear turn signals on both sides. The Joyor electric scooter Y5S can travel 40-50 kilometers on a full charge, while the Y10 can travel 100 kilometers on a full charge, which is the largest driving distance on the market. The Joyor Y10 is the perfect choice for long-distance commuters and travel, rental and delivery services.

This longboard-shaped electric skateboard. It is very suitable for adults to ride, and it is very convenient for commuting. Is the best long-distance scooter, perfect for those who want a long commute to work and rental and delivery services